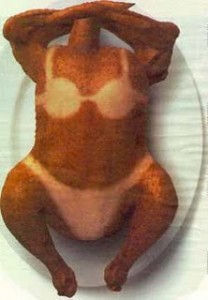 Here is a list of some of my favorite Thanksgiving Day Quotes (also good for Facebook Status Updates):

Thanksgiving is an emotional holiday. People travel thousands of miles to be with people they only see once a year. And then discover once a year is way too often. ~Johnny Carson
How many cooks does it take to stuff a turkey? —- One, but you really have to squeeze him in!
Why did the pilgrim's pants keep falling off?  —- Because the buckle was on his hat!
Everyday is like Thanksgiving for me…People always give me "The Bird" and tell me to "Stuff It!"
I celebrated Thanksgiving in an old-fashioned way. I invited everyone in my neighborhood to my house, we had an enormous feast, and then I killed them and took their land. ~ Jon Stewart
You know that just before that first Thanksgiving dinner there was one wise, old Native American woman saying, "Don't feed them. If you feed them, they'll never leave. ~ Dylan Brody
When I was a kid in Indiana, we thought it would be fun to get a turkey a year ahead of time and feed it and so on for the following Thanksgiving. But by the time Thanksgiving came around, we sort of thought of the turkey as a pet, so we ate the dog. Only kidding. It was the cat. ~ David Letterman
It took me three weeks to stuff the turkey. I stuffed it through the beak. ~ Phyllis Diller
You can tell you ate too much for Thanksgiving when you have to let your bathrobe out. ~ Jay Leno
An optimist is a person who starts a new diet on Thanksgiving Day. ~ Irv Kupcinet
I love Thanksgiving turkey… it's the only time in Los Angeles that you see natural breasts. ~ Arnold Schwarzenegger
On Thanksgiving Day, all over America, families sit down to dinner at the same moment – halftime.
Thanksgiving. Not a good day to be my pants.
Happy Thanksgiving and feel free to add any new ones in the comments!